Dec 23, 2018.
Version 18.12 is now available for DOWNLOAD!
The new Mask: Apply filter makes it possible to mask filters without using multiple tracks! Use Mask: Simple Shape or Mask: From File to start the filter mask followed the video filters to be masked followed by Mask: Apply to apply the mask to the filters in between. Filters before or after the mask filters affect the entire video frame. One can still use Mask: Simple Shape or the new Mask: From File to affect the alpha channel for multitrack compositing as before.
New Features
Added View > Scopes > Video Histogram.
Added Preset to some more filters:

Audio Gain/Volume
Blur
Brightness
Opacity

Added Preset and simple and advanced keyframes to the Balance and Pan audio filters.
Added a Levels video filter with simple and advanced keyframes!
Added Properties > Color Range for video clips.
Replace the Mask video filter with 3 new filters:

Mask: Simple Shape
Mask: From File
Mask: Apply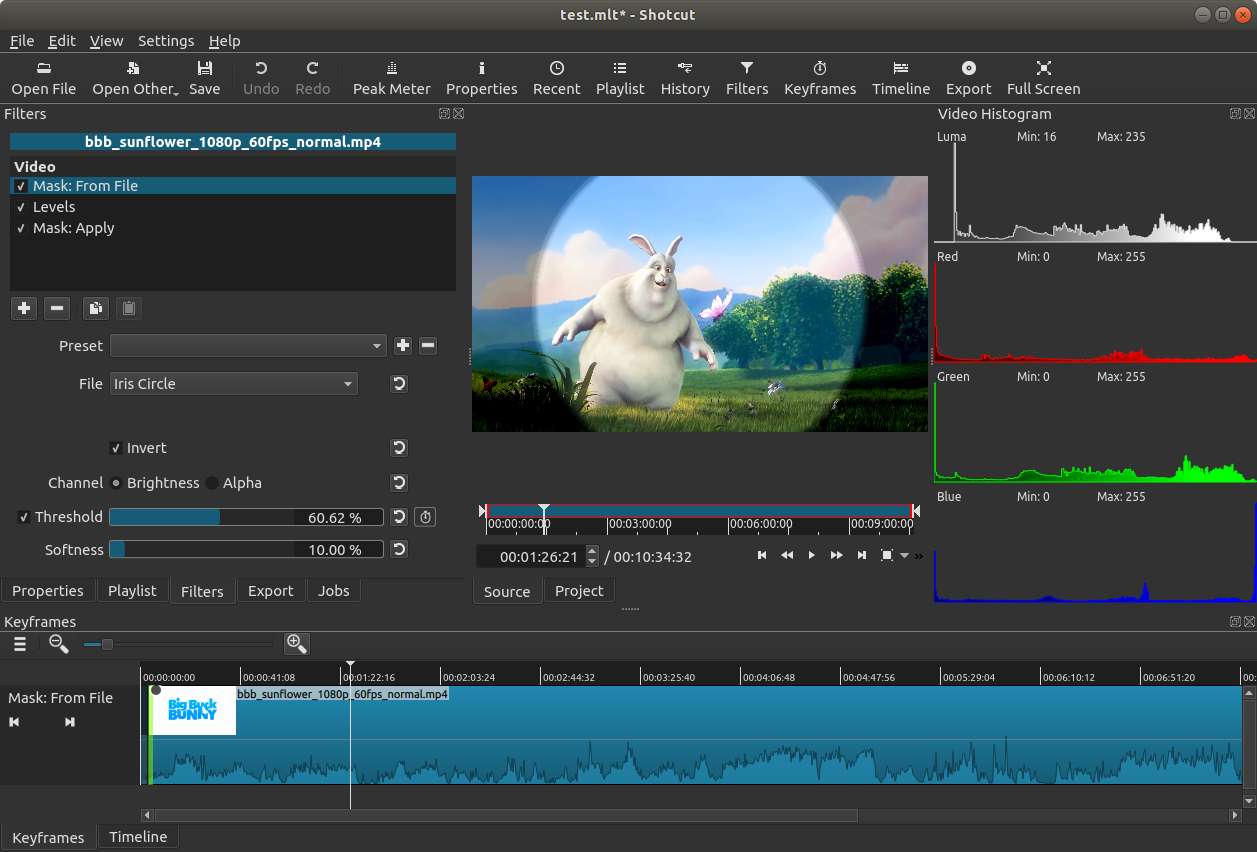 The new Mask: From File is a powerful new video filter offering 3 modes:
wipe transition (stock or custom)
Channel > Brightness from a video or image file (File > Custom…)
Channel > Alpha from a video or image file
Moreover, Threshold can be animated with simple or keyframes, which is especially nice when used with luma-wipe image files (stock or custom). Not only can you wipe on a filter but also you can use this as an alternative way to make a wipe transition using multiple tracks (instead of same track transition).
Fixes
Fixed color accuracy of lossless/Ut Video preset and use yuv422p format.
Fixed number of digits for seconds in the Timer video filter when using Format > MM:SS.SS.
Fixed compositing completely transparent areas of alpha channel darkens output.
Fixed some generators (Color Bars, Ising, Lissajous, Plasma) not working correctly in Timeline.
Fixed Settings > External Monitor > DeckLink/Intensity can stall when Settings > Realtime is enabled.
Fixed making project folder if a parent folder does not exist.
Fixed New Project > Start does not save a .mlt file until you open media and save.
Fixed launch on some Linux (e.g. gentoo) by including libselinux .
Fixed crash when undo Playlist > Remove All.
Fixed auto-saved file not removed when save and exit with no changes.
Fixed the color accuracy of the Color generator.
Fixed numeric locale bug in the Audio Spectrum Visualization and Audio Waveform Visualization filters.
Fixed clip reloaded when leaving Properties > Speed with no change.
Fixed Settings > External Monitor on Windows screen.
Fixed launch crash on Linux with (Csound) csladspa < 6.11.1 installed.
Changes and Improvements
Improved color accuracy of internal RGB-to-YUV conversions.
Changed Quality to 100% when using the intermediate/ProRes preset.
Added 16:9, 9:16, and 1:1 aspect ratios for transition wipes.
Moved Properties > Reverse… from the overflow menu to a button.
Changed Properties > Reverse… to use project folder if used.
When Reverse job completes, automatically open it and add it to the Playlist.
Start playback from the beginning if you play when the play head is at the end.
Improved speed of the Text and Timer video filters.