Apr 12, 2020.
Version 20.04.12 is now available for DOWNLOAD!
The proxy management feature is not ready, but we worked on a building block in the form a Replace edit command that is integrated into Reverse and Convert to Edit-friendly. This will be used to asynchronously integrate proxies after they have been generated.
New
Added Properties > Speed > Pitch Compensation for automatic pitch correction for speed changes > 0.1x.
Added a Replace command to Timeline clip menu including blank regions with shortcut R.
Properties > Reverse now automatically replaces a selected clip on the timeline (or in Source player if using that).
Added 15 second handles when using Properties > Reverse on a timeline clip. Handles are extra footage before the in point or after the out point. This makes it easier to adjust edits or add transitions around reversed clips.
Added Properties > Duration > Timeline to show (not editable) the duration of a timeline clip.
Added a Corner Pin video filter (thanks to @sauron in the forum for the initial effort).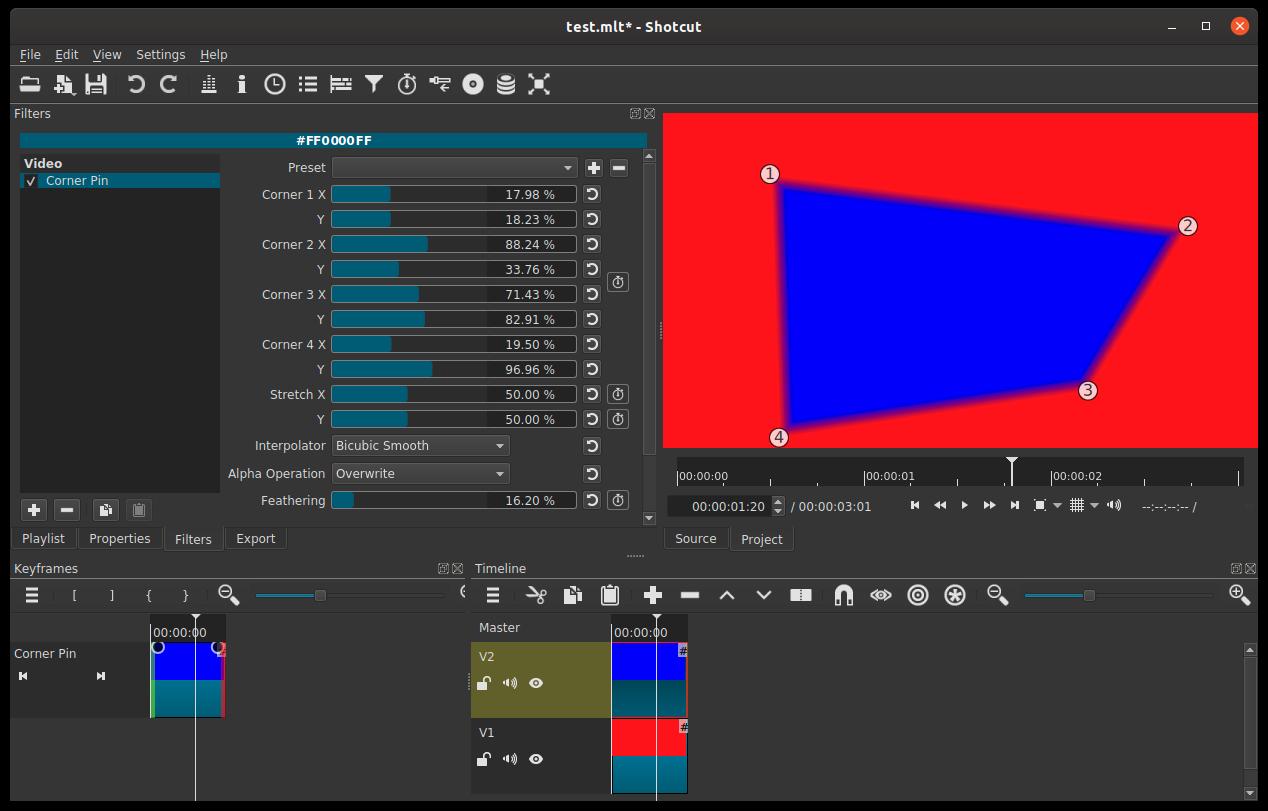 Added a Properties > Convert button to make Convert to Edit-friendly in the menu more convenient (kept in the menu for now because a number of support tips reference it).
Properties > Convert now automatically replaces respective clips in Source and Timeline and adds its clip to the Playlist.
Fixes
Fixed = in Text: Simple filter ignores all text before the sign (broken in v20.02).
Fixed a crash when using some video filters with Preview Scaling and multiple video tracks:

Choppy
Rutt-Etra-Izer
Swirl
Text: 3D
Text: HTML

Fixed Offset X and Y parameters of Rotate and Scale filter with Preview Scaling.
Fixed video artifacts when using a video for a custom transition and Export > Parallel processing.
Fixed video artifacts when using the Distort video filter and Export > Parallel processing.
Fixed video artifacts when using the Rotate and Scale or Size and Position filters, multiple video tracks, and Export > Parallel processing.
Fixed missing code-signing entitlements for macOS that caused crashes when using the following (broken in v20.02):

Open Other > Audio/Video Device
HTML-based video filters:

Choppy
Crop: Circle
Crop: Rectangle
Rutt-Etra-Izer
Swirl
Text: 3D
Text: HTML

Fixed floating or docking some panels may crash on some Linux systems:

Filters
Keyframes
Timeline

Fixed changing the name of a track in Timeline when leaving the field without pressing Enter.
Fixed File > Export Frame exports uses Preview Scaling instead of project resolution.
Fixed switching between Cut and Dissolve in transition properties.
Fixed project not modified when changing transition properties.
Fixed pressing Enter in Filters search may open a playlist item.
Fixed a regression in JACK transport control (broken in v19.12).
Fixed a missing Timeline track Lock button animation when lock prevents something.
Fixed clips can be moved to locked timeline tracks (broken in v19.12).
Fixed treating paths with Windows drive letters as relative on macOS and Linux.
Fixed automatically relinking filters with HTML files (when app location changes or moving projects).
Fixed Undo followed by Redo after a Lift or Remove on a transition saves the transition as INVALID.
Fixed some filters than use external files broken when using network (UNC) paths on Windows:

LUT (3D)
Mask: From File
Text: HTML

Fixed Filters > Copy & Paste does not keep filter in and out points.
Fixed opening with a file from the command line on Linux snap or portable.
Fixed Export can overwrite a source when run from command line.
Fixed Keyframes previous/next buttons not using the parameter track to which they belong but rather the current track.
Fixed opening a playlist clip or a new clip breaks filters on Timeline > Master if it is selected.
Changes
Changed Export > Video > Parallel processing to default to OFF but also now it save the state between export jobs and app session.
Added support for FFmpeg sample_fmt option to Export > Other.
Automatically disable parallel processing on add-on bigsh0t (360) video filters.
Stop adding title="Anonymous Submission" to MLT XML.
Increased the priority of background jobs a little on macOS and Linux (still less than normal).
Added 448k to Export > Audio > Bitrate.
Added automatically scroll the Timeline when you double-clock a clip to select-and-seek.
Updated the mouse wheel behavior in Keyframes to match the changes to Timeline in version 20.02.
Added an option to place an icon on the Desktop to the Windows installer.
Add a cursor to the Audio Waveform scope.
Removed Export > Stream as it is not supportable in its current state.
Changed shortcuts C and Ctrl+C to work with the clip under the playhead of the current track if no clip is selected. This makes it behave similar to other editing shortcuts.
Changed the keyboard modifier for skim to Shift+Alt. This prevents Shift (previous modifier) when selecting multiple clips from changing playhead position. NOTE: On macOS, in order to scroll Timeline or Keyframes horizontally with a mouse wheel (not Magic Mouse or track pad), you must also use one of the following:

Control
Control+Option
Control+Command
Option+Command

Changed the Matrix parameter of the Dither video filter to be a drop-down combo box without keyframes support.
Changed Alpha operation > Write On Clear to Overwrite on some video filters to make them more clear:

Mask: Simple Shape
Chroma Key: Advanced