Dec 11, 2021.
Version 21.12.24 is now available for DOWNLOAD!
More For Markers
Added View > Markers panel with search, seeking, and editing (Ctrl+Shift+6, shift+command+6 on macOS).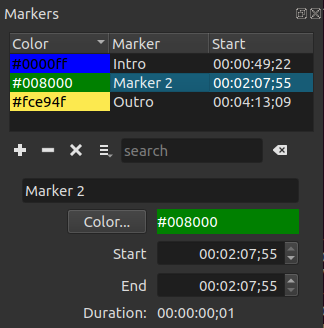 Added File > Export > Markers as Chapters…:
This outputs in the format used to make chapters for YouTube!
IMPORTANT NOTE: only markers with a duration of 1 frame (default) are exported as chapters.
Added previously used colors to the marker context menu.
Added keyboard shortcuts < and > to seek between markers.
Added snapping for markers - dragging clips or their edges snaps to markers and dragging markers snaps to clip edges or playhead.
Added a Ripple markers with edits button to the Timeline toolbar (Alt+R, option+R on macOS)
Fixed delete marker keyboard shortcut may delete wrong marker.
Fixed Export > From > Marker may export from wrong region marker.
More New Stuff
Added Properties > Rotation for video clips to override orientation by some multiple of 90 degrees.
Added support for keyframes to the Hue/Lightness/Saturation and Chroma Hold video filters.
Added video filter Audio Level Visualization.
Added segmented bar type of display to the Audio Spectrum Visualization filter.
Changes
Updated MLT engine to version 7.4.0 (required for added keyframe support in some filters above).
Added a file save dialog upon repairing a project file to prevent overwriting a previous repair.
Removed some harmless error messages in logs.
Changed Properties > Audio > Sync to hide when it is not applicable (no video track in the clip).
Changed the units of the Hue parameter in the Hue/Lightness/Saturation video filter to degrees.
Changed Detach Audio to separate the audio and video filters.
Improved the accuracy of bubble help when trimming in Timeline and Keyframes.
Improved the accuracy and snap reliability of the 10 and 20-pixel grid player overlays.
Improved various mouse and keyboard operations in Timeline and Keyframes.
Improved the VMAF speed and accuracy of the Properties > Measure Video Quality….
Fixes
Fixed Timeline > menu > Track Operations > Insert Track breaks video track blending (broke in v21.10).
Fixed copy and paste multiple clips from another project can change the video mode (broke in v21.10).
Fixed Open Other > Audio/Video Device capture (broke in v21.10).
Fixed a crash when changing Properties of Audio/Video Device.
Fixed a crash in Old Film: Projector video filter with 360p preview scaling.
Fixed a possible crash in the Mosaic video filter when width or height is 0.
Fixed the output alpha channel of Timeline with more than one video track (thanks @andre-caldas!).
Fixed the Time Remap video filter distorts audio when the speed is zero and resampling.
Fixed the color range of LUT (3D) video filter on transitons with full range clips.
Fixed a possible crash in Audio Loudness scope.
Fixed window is initially all white and a small white window appears on startup on Windows.
Fixed unwanted keyframes appear in Corner Pin video filter when trimming in.
Fixed ugly pink video - not black background - after undo a remove/ripple-delete operation.
Fixed keyframes can sometimes be dragged before previous or after next.
Fixed double-clicking a keyframe does not delete it.
Fixed incorrect filter parameter values after the last keyframe after a Split operation.
Fixed a crash pasting from the clipboard to an empty timeline.
Fixed inaccurate frame rate override with many decimal places in Properties > Convert > Advanced.
Fixed incorrect colors when reloading the Audio Spectrum Visualization filter UI.
Fixed being able to select the last filter when there are many Filters applied.
Fixed audio was muted after changing view layout or window size when playback speed is fast forward or rewind.